Practically every professional photographer and videographer uses a DSLR since it is the ideal camera. This article will outline some pretty cool presents you may buy for any friends or family members who enjoy DSLR photography.
The list contains a variety of helpful extras, like tripods, camera bags, and straps, all of which can be very helpful for DSLR users to take pictures quickly and with enjoyment. Let's look at it now.
1. Lowepro DryZone 200
DSLR cameras can be stored in the Lowerpro DryZone 200 backpack, which is water-resistant. The bag contains several of pockets with a divider system that can be customized, a tripod holder, and space for your professional camera or video system and four to five lenses.
As DSLR cameras are rather expensive, the bag has inside padding to protect the gear from harm. The rubberized nylon dry pod with sealed seams, which has an IPX7 rating, is what makes it genuinely water-proof so you can carry your camera outside with ease.
2. GorillaPod 5K
Joby GorillaPod has been available on the market for a while and is a preferred accessory for both amateur and professional photographers. This handy piece of equipment is portable, lightweight, and secure for holding your camera steady. It is especially helpful for DSLR users.
The stability and adaptability of GorillaPod are its finest qualities. Its very flexible, 360-degree-maneuvrable legs, made of superior anodized aluminum, allow you to use it standing up or wrap it around objects to take stunning photos.
3. Rhino Rov Pro
For your mirrorless DSLR camera, here is a motorized slider. Rhino Rov Pro is a small, practical slider that you can attach your phone or camera to and use with your smartphone. You can simply produce stunning photos in this way.
One of the best aspects of the Rov Pro slider is its portability. It is quick to put up, lightweight, and small in size. The slider also incorporates adjustable feet for increased stability and a high-quality aluminum extrusion.
4. Peak Design Travel Tripod
Photographers and videographers need a strong tripod that is portable because they are frequently on the go. This Peak Design Travel Tripod offers amazing stability while being quick and simple to put up.
The Travel Tripod is constructed such that it takes up half as much space as conventional tripods without sacrificing stability. Using the tripod, you may install a full-frame DSLR camera, a telephoto lens, or even your phone using the built-in phone mount, and each mounted object will be equally stable.
5. Peak Design Capture
Peak Design Capture makes it easy for you to transport your camera wherever you want to shoot pictures while it captures beautiful images. When you're bicycling, running, trekking, or even just walking around inside, this professional and reliable camera strap keeps your DSLR camera safely fastened.
With Capture, you can quickly reach your camera, unlike other camera straps on the market. It comprises of a metal clip that fastens to any strap, such as a belt or backpack. To access your camera, simply click the quick-release button.
6. Peak Design Slide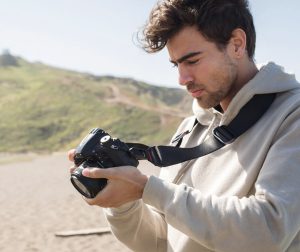 The Slide camera strap, another offering from Peak Design, lets you wear your camera as a sling, a neck strap, or a shoulder strap. The strap has a unique anchor link mechanism that keeps your camera securely secured to the strap and is padded from the inside with nylon webbing that slides over clothing comfortably.
7. Peak Design Camera Cube
This incredible Camera Cube by Peak Design is a wonderful travel case to keep your priceless DSLR camera, lenses, and other accessories. It is made to be fitted securely to any Peal Design camera backpack and gives you many options for organizing your stuff.
The case has a high-density sub-lining, a waterproof nylon canvas exterior, and a variety of FlexFold dividers to allow you to organize the space within. Also, there are adjustable pockets and premium dual-side zips for filters, lens covers, etc.
8. Peak Design Lens Kit
As a professional photographer, you frequently need to swap out the lenses on your DSLR camera. Under such circumstances, this Lens Kit by Peak Design will help you work more efficiently.
With the Lans Kit, you can replace your camera's lens with with one hand and store an extra lens in a safe, stable location. Up to two lenses can be kept in the kit, which you can fasten to your belt, bag, or large object.
9. Nomatic Memory Card Case
Here is a practical tiny memory card case that you may take with you when you go on a filming adventure. Up to two c-fast cards and six SD cards can be stored in the case, which is built of sturdy material. It also has a magnetic closing to keep all of your cards securely tucked within.
10. Satechi USB 3.0 Card Reader
This multifunctional little gadget from Satechi combines a Type-C USB 3.0 port, an SD card reader, and a micro SD card reader. Simply connect it to your computer to transfer any type of data from your SD or mini SD cards with ease. Also, both connectors have a particularly beautiful metal finish and protective cover.
11. White Balance Cards
Every time you go on a shooting adventure, you should check the white balance on your camera. Since they can be connected to your keyring, camera bag, etc., this set of black, white, and grey cards may let you check your camera's exposure wherever you go.
These waterproof color calibration cards have a matte texture to reduce reflection. A free ebook on 18 Composition Principles For Better Photographs will also be sent to your email address.
12. MagicFiber Microfiber Cleaning Cloths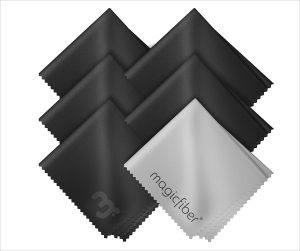 Your camera and lens become dirty and heavily fingerprinted after frequent use. You cannot wipe a DSLR camera with just any rag because they are pricey and delicate. These microfiber cloths are designed specifically for that purpose.
Your camera and other fragile equipment can be cleaned with MagicFiber, which is comprised of high-quality microfiber cloth. The clothing are 6 by 7 inches and are packaged in plastic bags for protection.