In order to get the most out of your PC, you need do regular maintenance. Taking care of mundane computer issues like a broken keyboard or mouse can be off-putting, as can the more involved tasks of regularly clearing up old files, updating software, and protecting the system from malicious malware. Nevertheless, with the right PC maintenance software, all of this is a breeze.
Third-party maintenance solutions are many and can execute crucial maintenance chores automatically, protecting you from PC issues and guaranteeing peak performance at all times. I've compiled a list of 10 different PC maintenance items that you should buy for your computer as a present.
1. PC cleaning tools
A fast and clutter-free computer is maintained by regularly removing unused items such as cache, temporary files, logs, fragments, etc. If not dealt with promptly (in GBs), these files can occupy a great deal of storage space, disrupt software, and slow down a computer.
Light, highly configurable, and able to effectively remove trash files, CCleaner is one of the most widely used PC cleaning apps. You can pick and choose what information gets erased, so you won't accidentally get rid of anything vital.
Other cleaning tools to consider:
SlimCleaner
BleachBit
FileCleaner
2. Defragmentation tools
If you are not utilizing a solid-state drive (SSD) but rather a hard disk drive (HDD), read on; otherwise, move on to the next resource.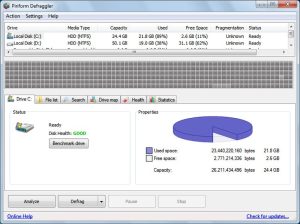 When you access a file, the hard disk writes a little piece of the file's contents to a different location. This leads to fragmentation, which slows down the hard drive's access arm and makes it harder to retrieve data when it's needed. Consequently, the system will be slower overall, and each time you open a new file, it will take a little longer to locate and open the file.
By rearranging the data on a hard disk, a defragmentation program can reduce the time it takes to open files. If you want to keep your computer working smoothly and quickly, defragging the hard disk is a good idea.
Although while Windows PCs come with a defragmentation program, additional customization is available with a third-party defragmentation utility like Defraggler. Using Defraggler, you can defragment individual files, folders, and even applications. It is possible to defragment free space to prevent further fragmentation.
More defragmentation tools:
Smart Defrag
Auslogics Disk Defrag
3. Automatic driver updates
The best method to guarantee optimal performance from all of your connected devices is to keep your hardware drivers up to date. The manual management of driver versions and updates presents significant challenges, however. Having a driver update application will ensure that your computer always has the most up-to-date drivers installed, eliminating any possibility of driver corruption.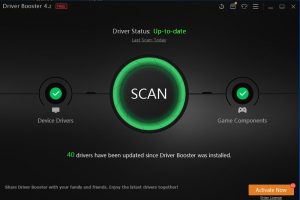 I recommend IObit's Driver Booster since it automatically updates drivers and repairs damaged ones. Also, if you're using Windows 10, it offers optimized driver support for your operating system.
Other driver updaters:
4. Uninstaller apps
In addition to the files in the root directory, applications can also make changes to the registry and generate other types of system files. The default uninstaller in Windows only deletes files in the program's installation folder.
The other data has no use and, if not deleted, would just take up space and cause performance issues. An uninstaller app, like IObit Uninstaller, may be used to permanently remove the program and all of its associated files and settings.
For well over a year, IObit Uninstaller has been a reliable tool for me. It has the ability to completely and swiftly remove software from your computer.
More uninstaller apps:
Revo Uninstaller
Wise Program Uninstaller
Geek Uninstaller
5. Antivirus and Malware removal programs
Every day brings a new vulnerability to malware and viruses. Protect your computer and its data with antivirus software that actively seeks for and destroys these threats.
While there are numerous options for antivirus software, one that has shown to be both effective and free is Avast. The scanning and network security it provides are both highly effective, and they happen in real time.
Other antivirus programs:
BitDefender
F-Secure Anti-Virus
Malwarebytes
6. CPU and GPU temperature monitoring tools
If your computer becomes too hot, you risk losing data and maybe ruining its internal parts. The central processing unit (CPU) and graphics processing unit (GPU) produce the most heat, so monitoring their temperatures can help you keep them cool when necessary.
The present and maximum temperatures of your CPU and GPU may be viewed with a temperature monitoring program like HWMonitor.
Other CPU and GPU temperature monitoring tools:
Open Hardware Monitor
HWiNFO
Real Temp
7. Disk space analysis tools
Knowing what data is already stored on your computer can make it easier to remove any unnecessary files. When my article "Disk space analysis tools" is complete, I'll provide a link to it here so that you can read about how these programs work in detail. In the meanwhile, disk space analysis tools will analyze your hard drive and present the results in a digestible format.
For this task, my favorite tool is WinDirStat. It's a lightweight app that generates a data tree displaying all data kinds on your System, so you can quickly determine which files are using the most space. Also, its interface facilitates data management and navigation.
Other Disk space analysis tools:
8. Hard drive health monitoring tools
There is a certain amount of time a hard disk will function properly before it fails or becomes corrupted. If you value your data and want to be ready for the worst, monitoring your hard drive's health is a must.
Crystal Disk Info is the application I use to keep tabs on the status of my hard drives because it is both straightforward and informative. In a nutshell, it summarizes the state of your hard disk and reports any issues or successes. Details such as hardware kind, temperature, and specifications are displayed.
Other Hard drive health monitoring tools:
Hard Disk Sentinel
HDDScan
9. System Information Tools
All the data about your computer's software and hardware may be found in the System Information Tools. Include things like the CPU, GPU, RAM, Motherboard, hard drive, and other hardware, and the speeds and types of each.
While they do not directly aid in PC maintenance, these tools come in very helpful when a problem arises or when adjustments need to be made to the PC's hardware. As an example, if you're having PC-related issues and require support from a professional, they'll likely ask for your system's specs.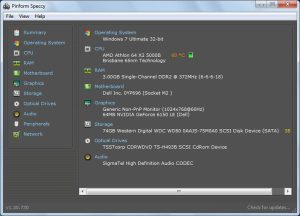 Windows also has a built-in system information tool that is, to be frank, rather thorough. But, Speccy is an excellent tool if you require even more information and want to be able to easily navigate and export that information. It displays a wide variety of data pertaining to your computer, such as the network, operating system, and other devices.
I also appreciate that it keeps tabs on data in real time and displays how that data, such temperature, is fluctuating in real time.
Others system information tools:
System Information for Windows
Free PC Audit
Belarc Advisor
10. All-in-one Utilities
Many of the aforementioned applications do a fantastic job, but there are also some unique all-in-one utilities that include various PC utility programs in a single bundle to automatically improve performance and solve problems. Though they are generally a "jack of all crafts and master of none," they are nevertheless interesting to consider.
Glary Utilities is a program that I've used before, and it has some fantastic features. Glary utility suite includes all of the aforementioned programs and more, including a startup manager, file explorer, virus scanner, and more. The Computer may also be sped up by using the included performance booster.
Other All-in-one utilities:
Advanced SystemCare
Auslogics
WinUtilities
Bonus
A registry cleaner may be purchased to aid with this process. Although while current operating systems handle registry management very effectively, it's still useful to have a registry cleaning on hand just in case.
Avoiding registry cleaning increases the likelihood that the registry will become corrupt, which in turn increases the likelihood of system slowdowns and program malfunctions if you don't clean it regularly. If you run across this issue and have exhausted all other options, consider fixing it by deleting unnecessary entries from the registry.
For this reason, I recommend Smart Registry Cleaner because to its user-friendliness and the inclusion of a defragmentation option for the registry. My aging computer's speed much improved after I used Smart Registry Cleaner to clean and defragment the registry. This means that it's possible that you'll find it helpful as well.
In conclusion
All of the aforementioned programs are either completely free to use or come in a free version that is feature-rich enough to be utilized at one's residence without encountering any difficulties. So, you shouldn't have any trouble keeping your computer up to date for free. Please let us know in the comments if you are aware of any further trustworthy programs that may be used to maintain a computer.